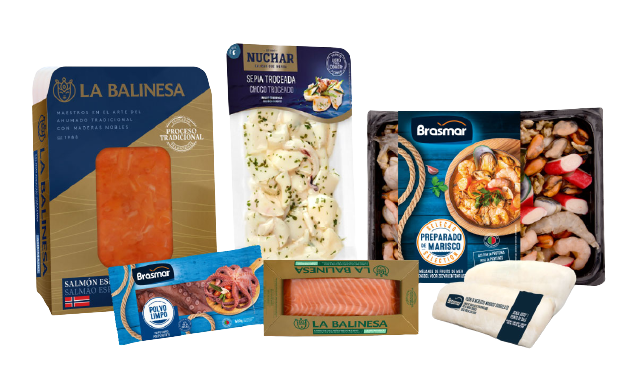 We have a varied portfolio of brands regarding frozen, chilled and salted sea products.
At Brasmar, we seek to meet the needs of our clients in every market where we operate.
By acknowledging the characteristics of each market, we adapt our offer to their specificities.
We produce and market with focus on the quality and safety of our products.
Our
brands
Brasmar

Brasmar is the brand of frozen sea products with the greatest variety in Portugal. Presenting a portfolio with more than 200 species, it was recognised by the consumer and awarded the label "Sabor do Ano" in the categories of cleaned octopus and soaked codfish loins and steaks for the last 5 consecutive years. The Brasmar brand offers products in the following categories: fish, seafood, cephalopods, and salted and soaked codfish.

Nuchar

With more than 20 years of existence, Nuchar is a brand specialised in chilled sea products, namely cooked octopus and other cephalopods. Recently, the brand increased its portfolio of products with smoked salmon. Nuchar is recognised in the hotel industry and in international markets for the quality and safety of its products (IFS Higher Level certified), as well as for the premium service provided.

La Balinesa

The La Balinesa brand stands out for its premium smoked products, such as the salmon or the codfish, while also marketing other chilled products. Recognised for the high quality it offers, it is distinguished by its artisanal process, supported by the most modern technology and the strict quality control of the raw materials.

Marnobre

Marnobre is a premium brand of sea products, which is exclusively marketed in the Brazilian market. It offers a wide and diverse selection of dried and deep-frozen soaked codfish. Its commercial structure commits to identify and develop new products on a daily basis, offering one of the most varied ranges of sea products in Brazil, through its logistics platform.

Argu's

The Argus brand provides frozen sea products in its portfolio, especially cleaned octopus and soaked codfish. This brand is marketed in the national and international markets through retail channel.

Amarras

Amarras is an entry level brand, with a wide portfolio of frozen sea products, in the categories of fish, seafood, cephalopods and codfish. Amarras responds to the demand of sea products with competitive prices, with a varied and complete range of references.